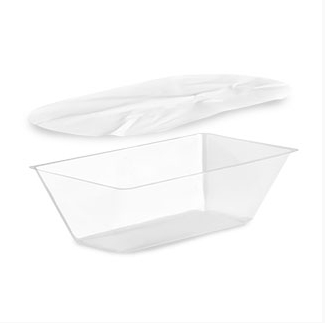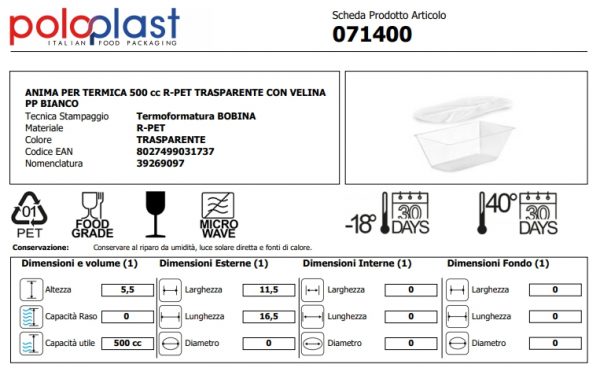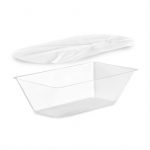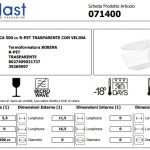 ART. 071400 LINER FOR TERMOX 500 cc
฿1,027.20
Code          :     ART. 071600 Packing     :     per box: 160 PZ Origin        :     Italy Brand        :     Poloplast
Description
ART. 071400 LINER FOR TERMOX 500 cc R-PET TRANSPARENT WITH COVER PP WHITE
ART. 071400
Capacity: 500cc
Dimensions: 16,5×11,5×5,5h cm
Pieces per box: 160 PZ
Colour:
ภาชนะเก็บความร้อนและเย็นสามารถนำกลับมาใช้ได้อีกโดย เก็บความร้อนและเย็นได้ประมาณหนึ่งชั่วโมง โดยจะมีกล่องรองและแผ่นปิดที่สามารถซื้อแยกต่างหากได้ สิ่งนี้ช่วยให้สามารถนำกล่องโฟมกลับมาใช้ใหม่ได้ กล่องรองและแผ่นปิดมีหลายขนาดและสามารถซื้อแยกต่างหากได้
Thermic container for the takeaway of your ice cream. Available in different dimensions. Thermic hold of about one hour.
Some models have a liner and cover that can also be purchased separately. This allows the reused of the thermic container.
The liner and the cover are available in different sizes and can be also purchased separately.