LucaMari Co. Ltd. courses are designed to meet different needs, depending level of experience and requirements.
Who should take LucaMari Co. Ltd course?
#1 If you aimed to run a Gelato Parlour, Ice cream Shop this new business and want to have the right knowledge in order to spend his own money properly.
#2 Whoever want to avoid to loose money in wrong, mistaken investment
#3 Whoever want to learn how to make Gelato Flavors in the typically "Italian Style"
#4 Whoever wants to enlarge an exixting business adding Gelato besides exixting proposals or simply, whoever is just a Gelato Lover, and want to get more about it
Topics covered:
• What is Gelato and how to make it – organize and manage their own Italian Gelato – Ice cream business.
• Technology of Ingredients, characteristics, and how they affect Gelato
• Production methods and techniques – To organize all the steps of the production
• General Information and Notions on Gelato Equipments, How to select the right ones, sized on the proper needs, How to set up a Gelato Kitchen and shop, properly
• How to create, arrange, modify, Gelato Recipes, with different options and several examples
• How to manage investments, costs, and incomes – To purchase the raw materials and ingredients with the knowledge in it
• HACCP basic notions – To run job under the correct HACCP system
• How to manage leftover, and revitalize sales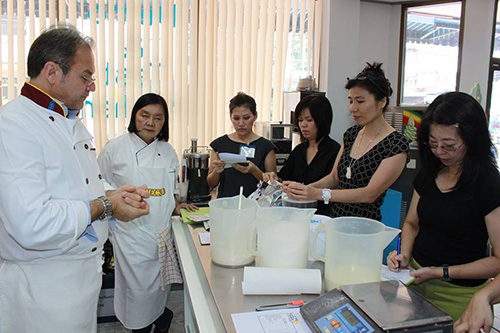 Why take a Course with gelatoguruthailand.com?
Basically, professional Italian Gelato-Makers, with several year of experience, usually ex-owners of Gelato shops who loves to travel around the world, eager to bring and share their experience to new generation of entrepreneurs. And also professionals Gelato makers experienced at the most famous italian Manufacturer Companies specialized in Gelato products and equipments.